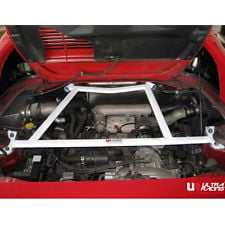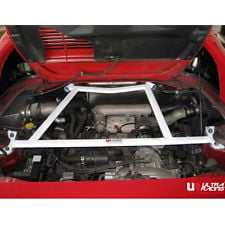 90-99 MR2 SW20 ULTRA RACING UR-RE4-943 Rear Strut Bar
$161.00
90-99 MR2 SW20 ULTRA RACING UR-RE4-943 Rear Strut Bar
This Rear Strut Bar Fits all 1990-1999 Toyota MR2 SW20 Turbo and Non Turbo Models
Features:

Made of high quality steel, provides more strength
Extra thickness of bracket and tubes to maintain constant geometry at all times
Improve handling, stability at high speed and cornering, hence safer driving.
Minimize the weight transfer of the vehicle body, better traction during cornering.
Ultra Racing is a specialist in manufacturing aftermarket chassis braces and sway bars, improving vehicle balance, steering precision, grip levels to enhance overall driving performance.
Ultra Racing is a trusted brand worldwide. Its products are certified by JIS 3101 SS 400 (Japan International Standard), JIS G 3141 SPCC SD (Japan International Standard), ASTM A 500
Grade A (American Standard) and BS 1387 (British Standard).
Rear Sturt Bar / Rear Tower Bar
Material: solid steel
Code: UR-RE4-943
Specification: 4 Points
Fits for Vehicle Model: Toyota MR2 SW20 1990-1999
Features:
- Improved Car Stability
- Improved Handling Stability
- Improved Braking Performance
- Improved Sharp Cornering
- Improved Safety & Comfort
- Reduced Understeer
- Reduced Body Roll up to 40%